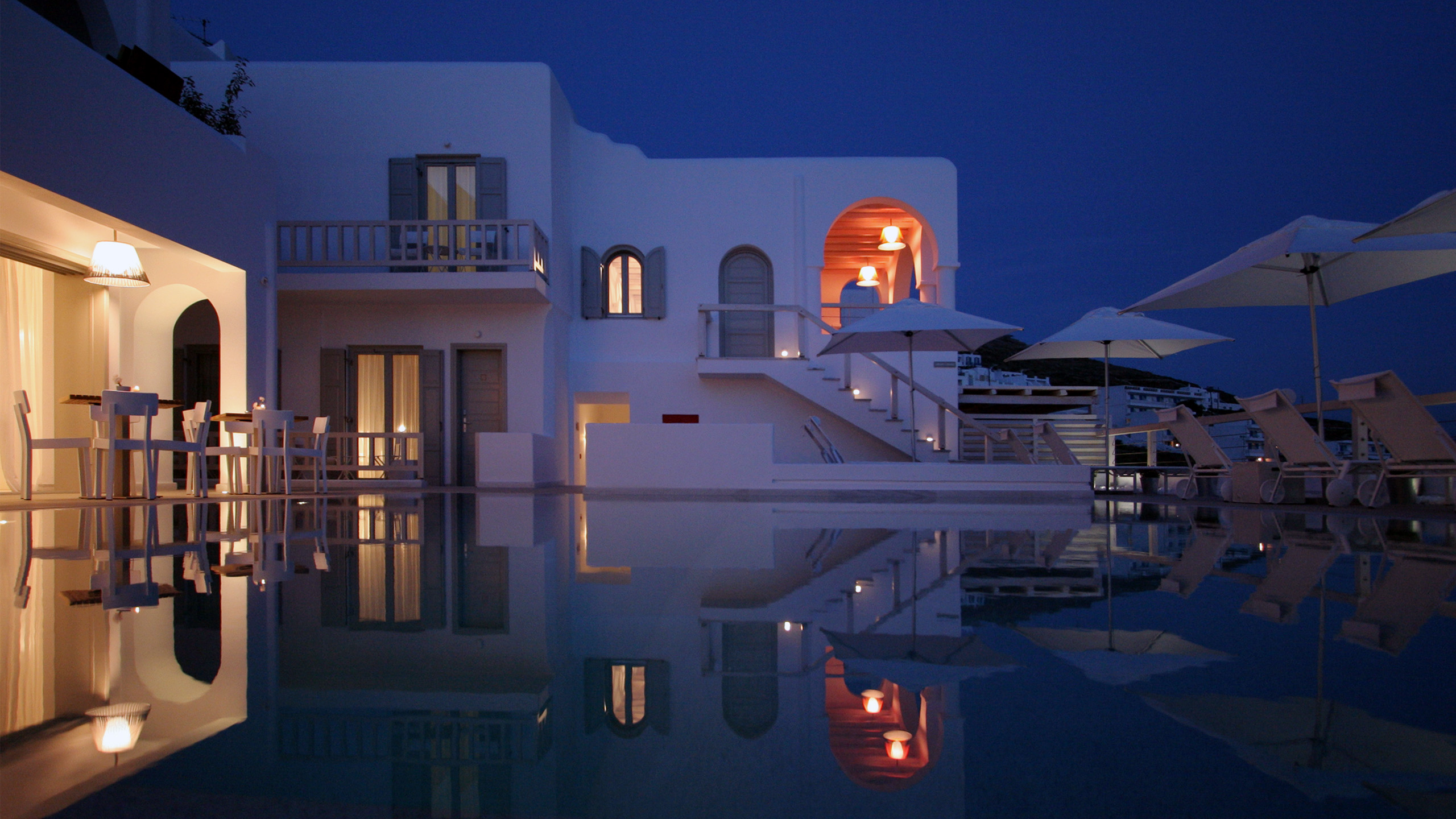 Location: Mykonos
Status: Reconstruction, Completed 2007
Project Architects: DZA, Alexandra Stratou
Interior Consultant: Divercity
Photography: Cathy Cunlife
Awards: 1st Prize Best Hotel, European Hotel Design Awards
Mykonos Grace hotel is situated in Agios Stefanos bay, on the island of Mykonos. The project involved the refurbishment of an existing hotel, with construction time restricted to 7 months.
The existing complex structure was the result of a series of extensions over a 10 year period. It consisted of two connecting wings, formed by stepped volumes that follow the natural slope of the hill, creating outdoor terraces with sea views. The hotel was operating 36 small rooms some of which lacked adequate natural lighting, ventilation or privacy, and most of which had poor interior layouts. Public spaces were divided between two levels: The reception situated at entrance level, isolated from other activities, and the bar-restaurant and pool situated on level 3. Existing circulation compromised the privacy of adjacent rooms and weakened the distinction between back and front of house. The refurbishment brief set by the project team was to reinvent the experience of the hotel by maximizing its existing advantages (sea views, differentiated open spaces) for the benefit of both its private and public areas.
By claiming dispersed in-between public areas for private use individual terraces were created that extended the rooms' domain outdoors. Jacuzzis and sun decks were built in most of the terraces. The extension of the rooms outdoors, allowed for the internal layouts to change in favor of more spacious bathrooms. The bathrooms were revised in all room layouts and their lack of natural light was addressed by opening windows that connected the room and bathroom visually and enhanced the quality of the space, giving it depth. In most bathrooms the walk-in showers afford views of the sea.
Reallocating problematic public areas to private use had also the effect of reinforcing public circulation and strengthening the presence of the primary public areas, the entrance level and the pool level. The swimming pool and bar-restaurant remained in their original locations, with alterations to their layouts to optimize daily use-patterns. The swimming pool's size was reduced in favor of a larger sun-deck/pool-bar area. A stairway was added to connect the existing level 4 lounge and its shaded balcony to the pool level, creating a cool lounge extension.
The main strategic changes were the relocation of the reception area directly across the entrance courtyard, and the creation of a spa and business lounge. The interaction between these public spaces, as well as the opening up of the courtyard space enhanced the public character of the reception and entrance, making it more accessible and relaxed.
The success of the project is due as much to the reinvention of the identity of the hotel through the meticulous renovation of individual rooms as it is to the revised planning and coherent character of its public areas. The two were inextricably linked.